SIGN UP FOR  UNLIMITED TALENT! 
Welcome to 2017 Talent Time!
Date _18th  march 2017. @ 11am -3pm.
Lisneal college, Sports hall. ( free car parking facilities available Behind the Music Technology Building . Entrance by  second main gate near summer meadows.
Talent Time will take you back to a Unique Experience of your successful Life .
just for the fun of it. Sign Up Now. To encourage and promote sports and games among KA families.
General Information
the competitions are as follows: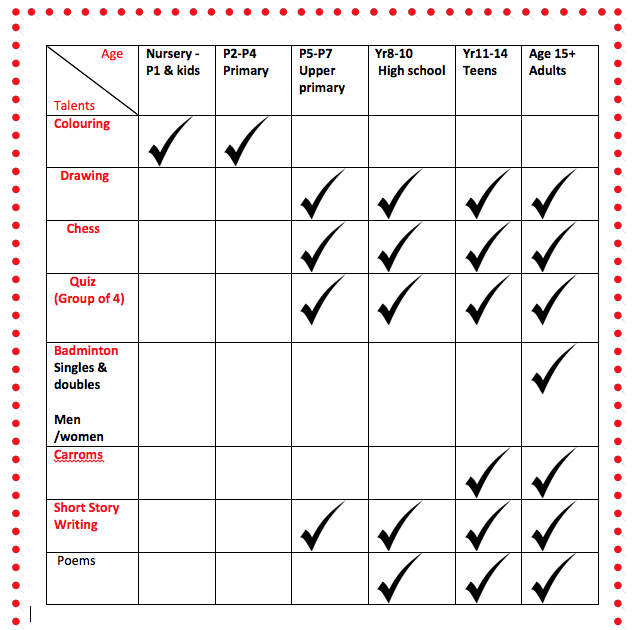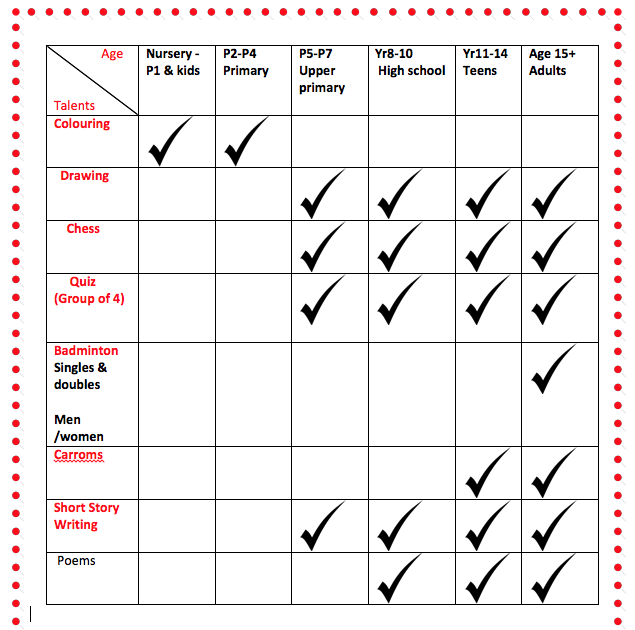 KA Summer sports camp & 
trainings/ SELECTIONS !
Hi Members, KA is planning to organise cycling, sports activities & trainings as part of our new project " An mor summer" .
KA is looking for Team players & Experienced Team Captions for our chess , badminton, Rounders, football & our cricket team (Kerala Tigers) . Selections & Names will be announced on Talent Time Day . Please submit your names & interested friends names before 16th March by text message or contact any BM. All members are requested to participate & support in this Healthy lifestyle sports activities on this Summer.Talent Time runs dynamic singing, dance and performance classes for adults, teenagers
Best platform for all experienced performer looking for a career in the industry !
Talent Time is an excellent platform  to explore and display ones creative, intellectual and artistic aptitude. Participation helps build confidence and interpersonal skills through collaboration and engagement while fostering a sense of belonging and togetherness within the community.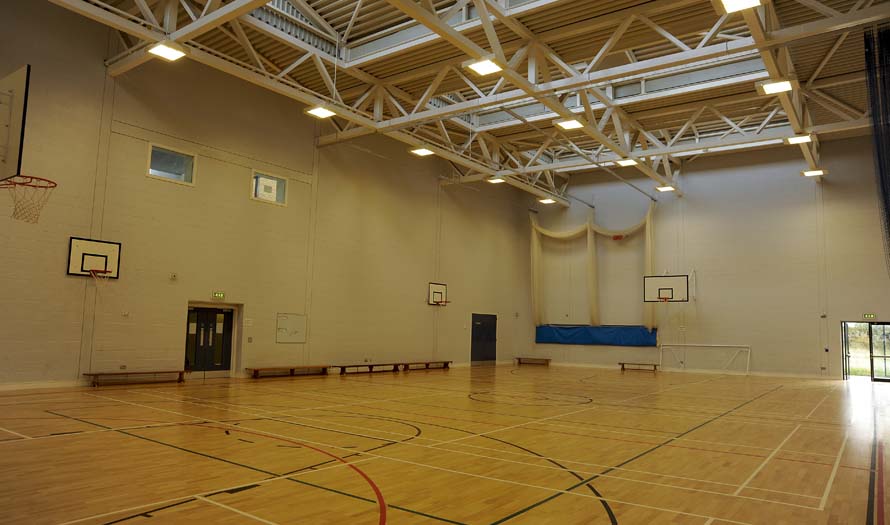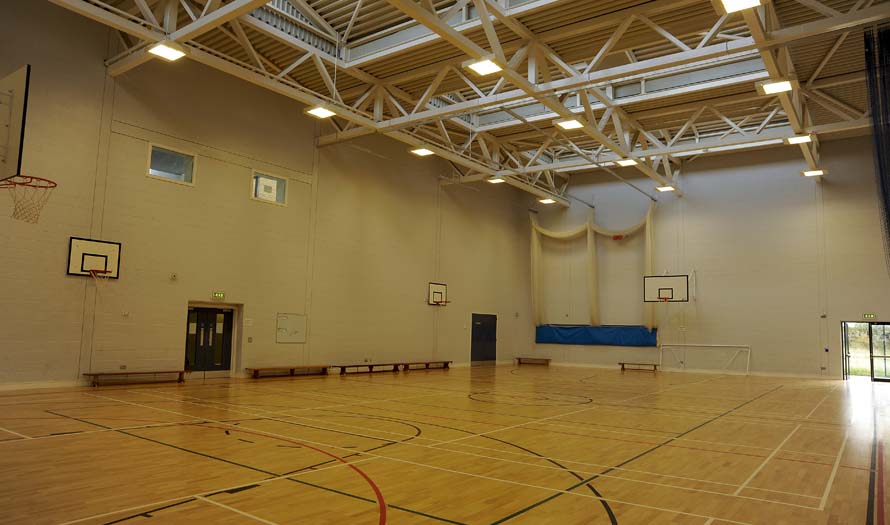 Disclaimer
To enter the Talent Time competition, participants must agree to be bound by the following rules and indicate acceptance while completing their registration.
KA reserves the right to solely determine eligibility for the reasons stated herein or on any other reasonable basis.General Rules
KA will host the several competitions under the "Talent Time" banner for all age groups.
For all group events, the group leaders must register themselves first and provide the names of all the members of their group
Registration opens Feb 1st 2017. Last date for submitting your names(Age above 16) for TT by March 1st, 2017.
KA reserves the right to publish poems, essays, stories, paintings and drawings submitted in the competitions on the KA website or in KA newsletter .
Participants should bring their own supplies ( water color, pencil, pen, sports uniforms, sports items etc.) required for their Talent Time. The organizers will provide the paper for written competitions, painting and pencil sketching. Participants are not allowed to use their own paper.
Participants should report at least 10 minutes before the beginning of the event at the stage/venue. Participants who arrive after the conclusion of their event will not be allowed to participate and their registration for that event will be deemed cancelled and the registration fees will not be reimbursed. The participant may still participate in other events for which they have registered provided they show up on time.

Participants shall not receive any communication from the organizers if they fail to report at the venue on time.
KAGW reserves the rights to revise the rules at any time.
Judges' decision shall be final

Competition Rules

Competitions will be conducted based on the following categories:

Category A – Below P1
Category B – P1-P6
Category C – P8-P12(upto GCSE 2nd year)
Category D – A level / From Age16 or Above,

For administrative purposes, categories are determined based on the Age/class in which the participant is currently studying. The participant's actual age will not be considered to determine their category.
Category for group events will be decided based on the Age/class of the oldest participant in the group.
False representation of the category will result in disqualification of the participant/team.
Participants can only participate in one category. However, participants may opt to participate in a higher category. Under no circumstances will they be allowed to participate in a lower category. A participant cannot contest in multiple categories for the same or different competitions. A participant must enroll under the same category for all the competitions they participate.
The category the event is applicable to, the rules, judging criteria, time limit details are all available on the portal next to the event
There are no separate competitions for male and female participants , unless it is already published.
The male participant  who gets the maximum points will be declared the "Kalaprathibha" in Kids & adult categery .
The female participant  who gets maximum points will be declared the "Kalathilakam"in Kids & adult categery
All individual events will be counted towards Kalaprathibha and Kalathilakam awards provided the category-event had equal to or more than 5 participants.
Organizers reserve the right to cancel a whole event or a specific category within the event if there are less than 3 participants for that event-category.
Points are allocated for individual events as follows:

1st place – 5 points
2nd place – 3 points
3rd place – 1 point

In case of a tie in total points, the participant who got the maximum number of 1st places will be awarded the title. In case there is a tie in the number of 1st places, the number of 2nd places will be counted.
If an event has less than 5 participants in a category, the points earned by the participants in that competition will not be counted for "Kalaprathibha" or "Kalathilakam". However, they will still be awarded for their accomplishment in that event.